About us
Tecnometal LTD is a company specialized in the design and manufacture of sheet metal and light carpentry fabrication for third parties.
With decades of experience we are able to carry out a professional service in the supply of articles for several sectors (thermal engineering, electronics, doors and windows frames, metalwork, etc..). We work in partnership with external companies to carry out specialized activities and for the treatment of the surface of parts, such as galvanizing and painting . Among the main objectives we highlight the constant pursuit of quality and continuous technological updating.
Our dates
1965 -
The activity begins with Mr. Giorgio Franchini, after years of experience in the field of metal and thermo-hydraulic carried as employed, started his own business and lays the foundation of his company.
1976 -
Mr. Giorgio Franchini developed and subsequently patented a heating system that uses the heat of wood burning fireplace with forced circulation of air. The high demand for this new product brings the company to a restructuring aimed at the industrial scale production of this patent.
1983 -
Starts a working relationship with Germany for the production of boilers. Meanwhile, his son Paolo joined the company.
1988 -
Acquisition of the company by his son Paolo, who manages it independently. After a decisive technological updating, the activity is oriented towards the industrial production of metallic carpentry for heating appliances.
1993 -
The individual company is transformed into a limited liability company, the "TECNOMETAL Srl", which gradually specializes in the production of sheet metal parts for heat engineering industry, metal frames and electronics.
1996 -
Development of the production area with new machinery and expansion of the plant.
1998 -
Fully renew of the punching machinery with the inclusion of two new CNC punching machines of the Finn Power company.
2000 -
Expansion of the bending division with a four-meter bending press, 220 tons and eight axis numerical control.
2001 -
Certification of quality management system by TÜV Italia according to ISO 9001-2000.
2004 -
Introduced the system of three-dimensional CAD design.
2007 -
Expansion of our production area with the addition of a laser cutting machine.
2010 -
Install of two photovoltaic systems with a total power of 230 kW.
2014 -
The business moved to a new plant in the industrial zone in Tione di Trento.
2016 -
Enhancement of the production department with a new 4000 W fiber laser cutting system.
The Machinery
Tecnometal LTD is equipped with the latest technology for sheet metal processing, including: CNC punching, laser cutting, CNC bending, welding / soldering, application, threaded inserts, assembly.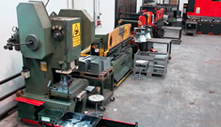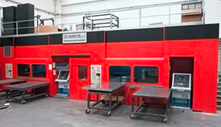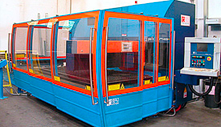 TÜV Certification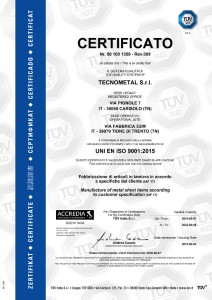 To guarantee customer satisfaction, all business activities are managed according to the guidelines of ISO 9001. In 2001 TÜV Italia, has released to Tecnometal Ltd. the certificate of the system of quality management according to the requirements of ISO 9001-2000. Subsequently, this certificate has been kept updated and renewed.
What we do